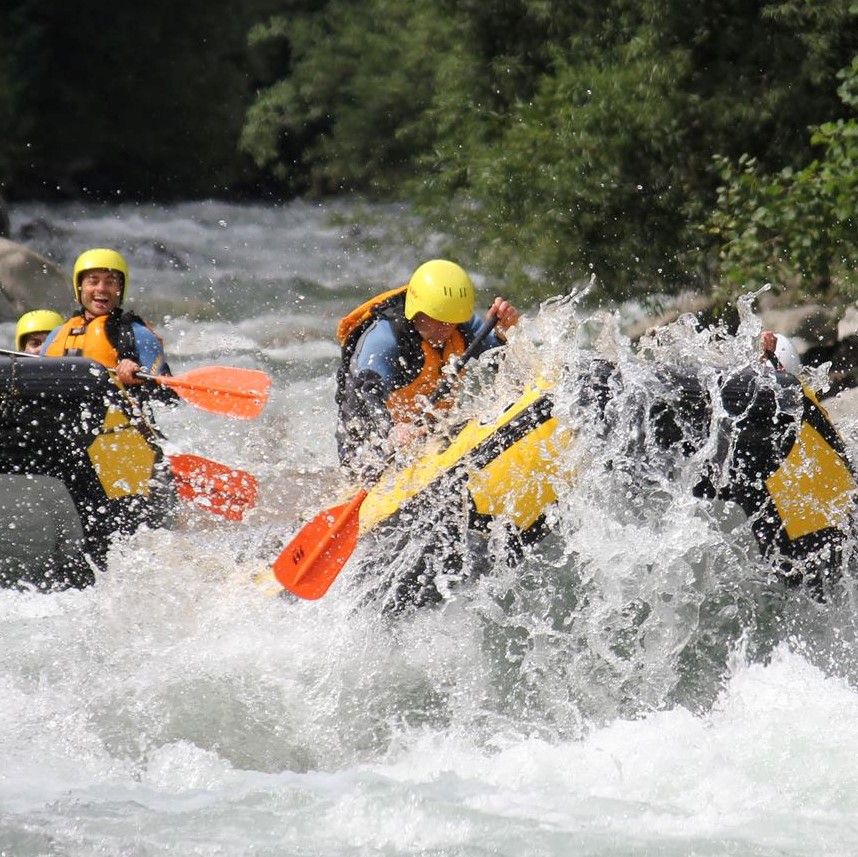 The Expedition Tour is the absolute highlight when it comes to rafting in the Merano region. High waves and wild rollers promise pure adventure over a length of more than 9 kilometres. The Expedition Tour can only be ridden from the correspondingly high water level. All this makes it one of the most varied and wildest rafting tours in South Tyrol.
The Expedition Tour is meant especially for experienced paddlers, but also for courageous rafting – newbies with a certain sporting ambition. Are you ready to take up the challenge and conquer the waters of the Merano river with us?
OVERVIEW
Distance in the river: 9 kilometres

Level of difficulty: 4 (demanding)
All you need is a towel and swimming clothes.

We provide you with the complete equipment.

If you want to shower after the rafting tour, bring everything you need.
BAD WEATHER?
We're guaranteed to get wet

it doesn't matter if from above or below
SCEDULE
Duration: 4 hours (dressing, transport, safety briefing included)

We usually start twice a day

So we can spend the time in the water without stress

We start at 10 am and 2 pm.
Experience with us the adventure of the river and get to know South Tyrol from a very unusual perspective. The trip in a rafting – boat gives you a new fascinating view over the nature in South Tyrol.
With the professional team of Südtirol Rafting Expeditions, consisting of internationally certified rafting guides, everyone can plunge into adventure. After registration, getting changed and transport to the start, you will be prepared for the rafting tour. Our guides will give you a detailed safety briefing and you will learn everything you need to know to master the wild ride together with your team.
Whether it is raining or the sun is shining, you are guaranteed to get really wet. We do not care from which direction the water comes. We also ride in rainy weather. But no problem our 4 mm thick wetsuits keep you comfortably warm.
For booking or further information please contact us. Either by phone or by e-mail. A quick non-binding booking request can also be made using the "Book now" form.
You can contact us at the number +39 349 417 83 93